High Speed Bread Slicer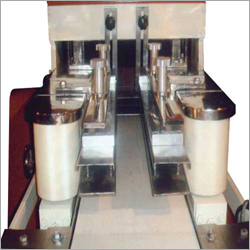 High Speed Bread Slicer
Product Description
We are amongst one of the renowned manufacturers, suppliers, traders of High Speed Bread Slicers. Besides that, we also deal with some of the leading companies for export and import of our product. The range is designed using high quality raw material and is widely appreciated for its low maintenance and quick & careful method of operations. With the team of talented professionals, which stringently checks these products on various required parameters. Our machine is widely acclaimed globally for its durability and rugged construction. One of the most advanced features of this product is that their blades are individually mounted under balanced tension. The High Speed Bread Slicing Machine is well constructed with top quality stainless steel blades, which provides optimum security during its operations. Further, our range of products is fabricated to slice bread, cake and rusks of different sizes, at a high speed.
Some of the distinctive features of these machines are:

1- 10"inch to 22" inch length wise.
2- Loading & Unloading Platform - Conveyor
3- Motor capacity 3H.P - 3PHASE.
4- 44O Volt motor
5- With Variable Drive
6- P.U Painted
7- Crank shaft Stroke 3 inch