High Speed Cake Slicer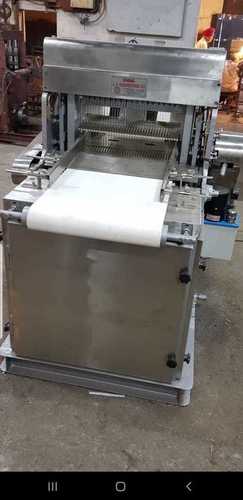 High Speed Cake Slicer
Product Description
High Speed Cake Slicer has synchronized feed and output belt speed. It has also oil dipped heavy duty gear box. This slicer is most technologically advanced, heavy duty machines and it passes through rigorous quality test on set parameters ensuring excellent quality and durability. This is suitable for bakeries having bulk production. High Speed Cake Slicer is highly appreciated by clients for its high quality and compact design. Apart from this, our slicer is offered in different specifications and can be customized, as per precise needs of our clients. The only high-quality raw material is used while manufacturing the offered slicer, for increased compliance with industry standards of quality.
FAQs
What is a cake slicer used for?
a kitchen instrument that has a wide, level edge with one end smaller than the other, and a handle connected, utilized for cutting and lifting slices of cake: She was given a silver cake cut as a gift.
What is the best way to slice a cake?
Whenever you've dunked your blade in steaming hot water and cleaned it dry, immediately cut into the cake. While utilizing a serrated blade, press into the cake and cut gradually utilizing a delicate cutting movement while pushing down. Rehash on the two sides of the cut and utilize a cake server or huge offset spatula to eliminate the cut.