Rotary Ovens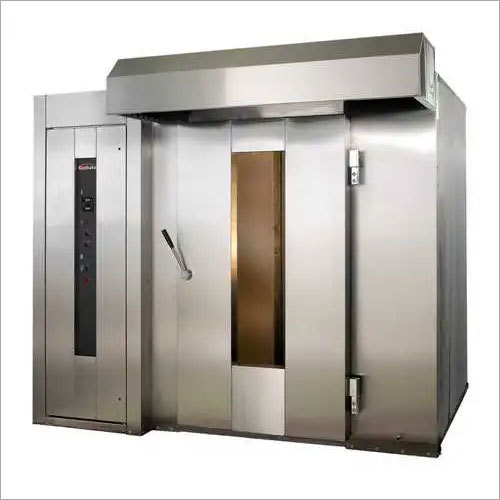 Rotary Ovens
Product Description
Rotary Ovens

We are engaged in manufacturing, trading, importing, exporting and supplying a wide gamut of Rotary Ovens. These ovens are acclaimed by the customers for their ultimate performance, longer service life, low maintenance, high efficiency and least power consumption. Under the supervision of our well-trained professionals, our Rotary Ovens are manufactured employing sophisticated machines in our infrastructures so as to ensure their hassle-free performance in hotels, industrial kitchens and numerous other areas.


Features :
Less maintenance
Better efficiency
Reduced cooking time
Non-Ionizing radiations
Simple and soundless operation
Incoloy sheathed heater elements
Oven was consisted of mild steel.
Durable and long lasting performance
Protects food nutrients from destroying
Gas Power and Diesel Power are available.
Self contained, high volume steam generating system.
Hot Air is distributed evenly into the oven by a blower fan.
Prevents bacterial contamination and thereby food borne illness
Rotary Movement provide equal & identical baking at all level of the rack
Applications :

Restaurants
Confectionaries
Bakeries
Hotels

Why Us?

Meeting baking needs of clients
Use of premium quality raw materials
State-of-the-infrastructure
Streamlined work environment
Proper network of communication
Customized solutions
Competitive prices
FAQs
What is the purpose of rotary oven?
The revolving stove is a pastry kitchen gear which planned exceptionally for bread shops which they need efficiency, quality item, homogeneous baking trademark and more energy saving. Control board can be as touchscreen or manual. Wind stream channels are movable that within the baking chamber.
What is the difference between the deck oven and rotary oven?
The rack is a turning stove that is great for when bigger amounts of a similar item are being prepared. A deck stove generally utilizes a stone sole and has an effortlessly managed top and base intensity circulation control